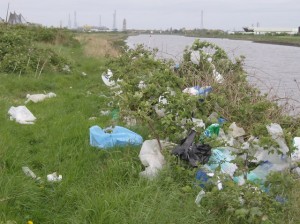 Natick resident and environmentalist Pat Conaway, is proposing a by-law which will ban the use of plastic bags at all stores larger than 2,500 square feet. Conaway would like to see a significant reduction in single-use plastic bags to curb the harm they cause to the environment, including ending up in the ocean and causing harm to marine wild life.
Some retailers in town think the formulation of the by-law is unfair as it is targeting stores of a -certain size, rather than taking into consideration the nature of the business: whether it is a family-owned enterprise which cannot absorb the added cost of purchasing bags that are not harmful, or a large corporation which can afford the added expense of the specialized bags.
Henry Kanner is one such store owner. He sells tents, canoes and other large products used in outdoor recreation. Since he deals in large items, he needs lots of floor space. He says the size of his store does not make him a giant business.
"If you're truly trying to not have a hardship on small, family-owned types of stores, then it shouldn't be based on square footage," said Kanner, whose store exceeds 2,500 square feet.
In an e-mail Kanner sent to Conaway, he explains the problem with the way the bylaw has been formulated.
The law, he says, "will greatly affect us, and impact our prices to consumers. This will impact the way we have been doing business in downtown Natick for well over 60 years."
Kanner says that now he spends about $5000 on bags each year. He estimates that in order to comply with the new law he might have to spend anywhere from $35,000 to as much as $75,000 a year.
"This is a cost that we cannot absorb, which means we would be forced to substantially increase our prices, which could accelerate the end of my business," he wrote in the email.
Conaway's response is that something must be done about the dangers of single-use bags, and the line needs to be drawn somewhere to reduce the "zillions of bags consumed all over the world. We've got this enormous problem," he said. "I think everybody has to pitch in."