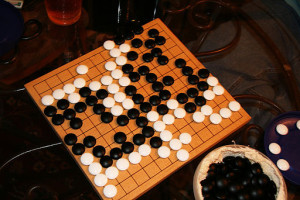 At a business in Maynard called Excelsior, fun rules. Founded in May 2014 by Tiana Chase and Bobby Whitcomb, Excelsior Comics and Games aims to create a family-friendly and inviting atmosphere where people can socialize, engage in their hobbies together, and play great, fun games.
As Chase says, "Fun is the foundation of games. Fun is why we are here."
Whether "we" is referring to his store or the existential "We," there is no doubt that fun is for sale at Excelsior. Here's how it happens: the store is composed of four spaces; a sales floor for purchasing comics and other items; a gaming area; a video game room and a role-playing space.
Whitcomb and Chase admit that without sales they could not exist, but for them the most rewarding aspect of their business is when they see friendships form and relationships strengthened while their customers spend time together having fun.
Chase said, "(At Excelsior) it's not, 'You come, spend money, and leave.' We offer you a group to play with, and a community of welcoming and experienced players who want to teach you about what they love and why."
"Everything that is done here is done socially. We give customers a place where they can express what they are interested in and feel welcome. With online gaming, you're talking to people you've never met and they will never know who you are. (At Excelsior) you are interacting socially with others and you have the chance to branch out and try new things," Whitcomb added.
In the gaming lounge events are scheduled, such as the weekly Sunday afternoon "Shall We Play a Game?" event. Chase and Whitcomb choose an independently produced board game and do a demo of it for the customers that come. They explain the rules and why they love the game. The partners have a two-fold motive for hosting this event: They would like to encourage people to try something new while also experimenting with more cooperative games, where players work together to achieve a goal rather than competing.
For Chase role-playing is her "life-blood." Many people have the wrong idea about role-playing games, and Chase and Whitcomb would like to dispel those.
"Much like other niche games, people seem to have this image of socially awkward 30-year-old men playing dress-up and pretend in a dimly lit basement with Cheetos and Mountain Dew. But these people are so wrong… Role-playing games are 100 percent social. You need to be able to talk to other people, express how you feel about certain situations, and realize the effects that your words and intent have on other people."
Chase summed up her enterprise this way:
"Games offer many things to many people. Escape, experience, relaxation, and social bonding to name a few. Being able to balance the stresses of life with the fun of games allows for an overall increase in the quality of life."