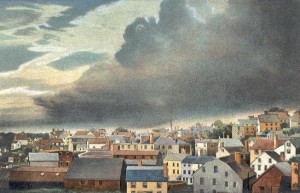 Spring may be late to Marblehead, but when it comes to the town's annual business initiative known as Celebrate Marblehead, spring has already sprung.
Marblehead's Chamber of Commerce Executive Director Beth Ferris explained that the severe snowy weather this past winter is compelling the town to get a head start on the upcoming year of business.
"It was just awful and not just for retail and restaurants but just business in general," said Ferris.
It is not only Ferris who believes something must be done to help Marblehead's bottom line. When Ferris asked the Board of Selectmen to vote in favor of an early start date for Celebrate Marblehead, she was met with a unanimous vote in favor of her proposal. The board voted for April 15 as this year's launching date for Celebrate Marblehead.
Ferris says she took her inspiration from the people. She noticed that during a brief respite in the freezing temperatures, people were sitting in cafes and enjoying the warmer weather.  She decided there was no reason not to begin the initiative in April instead of the usual June date.
Celebrate Marblehead was created three years ago. The program allows local businesses leniencies in their efforts to persuade residents to shop locally. Businesses have permission to create small beautification projects in their storefronts, and to provide outdoor seating for as many as eight patrons of cafes. Street entertainers are allowed to travel around town, and when the summer begins in earnest there will be more official types of entertainment at the town landing.
"It's a way of letting our businesses be creative," Ferris said.
Despite these leeways, Ferris pointed out, that all projects will have to meet all the usual rules and regulations governing business behavior.