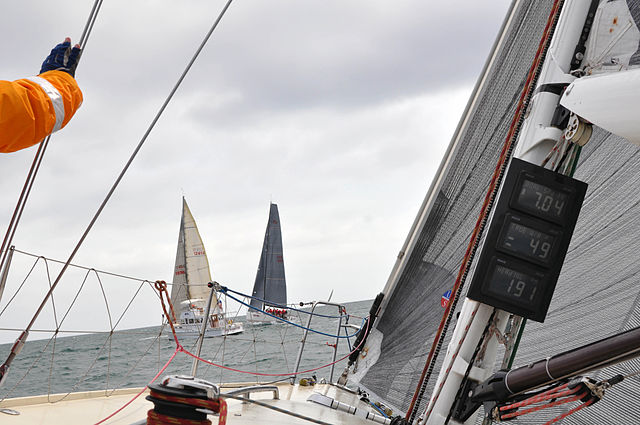 Co-sponsored by the Royal Nova Scotia Yacht Club and the Boston Yacht Club, the 20th edition of the famed Marblehead to Halifax Ocean Race is due for departure this coming July 5. More than 65 sailboats will participate in the 363 nautical mile race course, challenging even to these seasoned sailors who participate every year.
One such sailor is Jeff Eberle from Concord, Massachusetts, who has participated in every one of the 20 races that have taken place over the past 40 years.
"It's been a nightmare stretch lately in business and I can't wait to get offshore. I get grounded by being there. Three hours after the starting gun, that's when I start to feel right," Eberle says.
During the race Eberle says he spends a huge amount of time, from 10-12 hours each day, in the navy station keeping track of the information on the weather and sailing conditions.
"We have a pretty sophisticated electronics package on board and that is our way of keeping on track and reacting to new information when it is available. While some people might call this 'sail by numbers', I find it takes a whole team of people to parse out the information and figure out what to actually do. Our own knowledge of the course often comes into play," Eberle explains.
Sailing this course is anything but "sail by the numbers." The highest tides in the world have been known to suck up some unprepared crews, take them off course, and send them into the Bay of Fundy.
"The Gulf of Maine is a gyre and the Bay of Fundy tides are enormous. There is fog at Cape Sable and you can't see anything with a five knot current running against you. What do you do? Do you go close to shore or go out further? It is a difficult call and you can't make it at the last minute." Eberle declares.
About one fourth of this year's participants are newbies. Eberle, who has sailed this course 19 times, suggests that the new sailors spend a lot of time preparing for this race.
"But enjoy it – don't get caught up in being too serious. It's an intellectual game about how you get to Halifax. In a normal race, the conditions are going to change radically and you have to be ready," said Eberle.