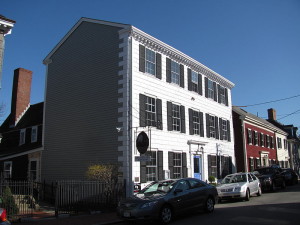 This weekend Marblehead shoppers will be looking for the blue balloons and shoes in the windows of neighborhood businesses, if they would like to see some of the works of local artists on display in their favorite stores.
Balloons and shoes signal to patrons that this store is participating in the (almost) annual Marblehead Art Walk 2015, where local artists join with local business to excite the public into deeper exploration of the world of art and business in their town.
"You probably don't think you'll walk into West Marine and see a photo exhibit," said Chamber of Commerce Executive Director Beth Ferris. "This pulls the two communities, business and art, together."
The Art Walk was first launched in 2009 by the Chamber of Commerce in partnership with the Arts Association with the intention of marrying art and business over a two day period. The event was annual until last year, when there was no Art Walk. Ferris said it was 'touch-and-go' for this year as well, but luckily the festival is up and running this coming weekend.
Ferris said the event is a 'funky experience' which creates a great 'synergy' and opportunity for both businesses and artists.
"Those looking for a particular artist may walk into a store they've never been too," Ferris said.
And people shopping in their favorite stores might discover an artist whose work they never met before.
One of the event's organizers, Carol Moore, owner of Shipshape on Washington Street, said she is really excited about this year's event.
"I'm an artist so I know how hard it is to do," she said. "This gives them a chance to show their work and they keep all the money. It's all about them."