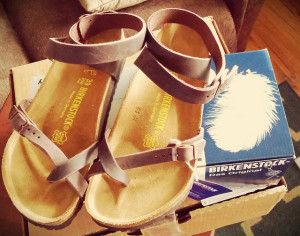 The very popular Shoe Galley shoe store has been outfitting North Shore residents' feet for over thirty years, but they were never in Marblehead before.
"The time was right to come to Marblehead," owner Gary Webber said. "There is a wave, a comeback of the downtown and it's the right time for us."
The first edition of Shoe Galley was opened in 1982 in Swampscott by Webber. After 14 successful years in that locale he moved to Vinnin Square, on the Salem side. He remained there for an additional 14 years and then moved again. This time he took his shop to the Swampscott mall, right next to a Gap shop.
On May 1st Webber opened up his store once more in a new location at 46 Atlantic Avenue. And he is using his new space to try new things.
"We've always been a women's shoe store but we're adding men's and kids now," he said.